IR NEXT- BlockCon Pakistan -1.0 Conference
IR NEXT (Industrial Revolution Next) is organizing the first of its kind of conference associated with Emerging Technologies & Industry 4.0 Applications
BLOCKCON PAKISTAN – 1.0
(Artificial Intelligence, Blockchain, Internet of Things & Cybersecurity)
Let us deep-dive into the precise panel discussions and mind-blowing technology sessions by the International Tech Pioneers and Residential Tech savvy distinguished participants.
Blockchain and its Applications – Worldwide Implementations and Benefits
Enterprise Applications and Technical Solutions
Academia and Applications – Industry 4.0 Opportunities
Industry 4.0 – Pakistan and us
Concluding Session will be addressed by the Federal Minister of IT – Mr Ameen ul Haq
For Registration , Click Below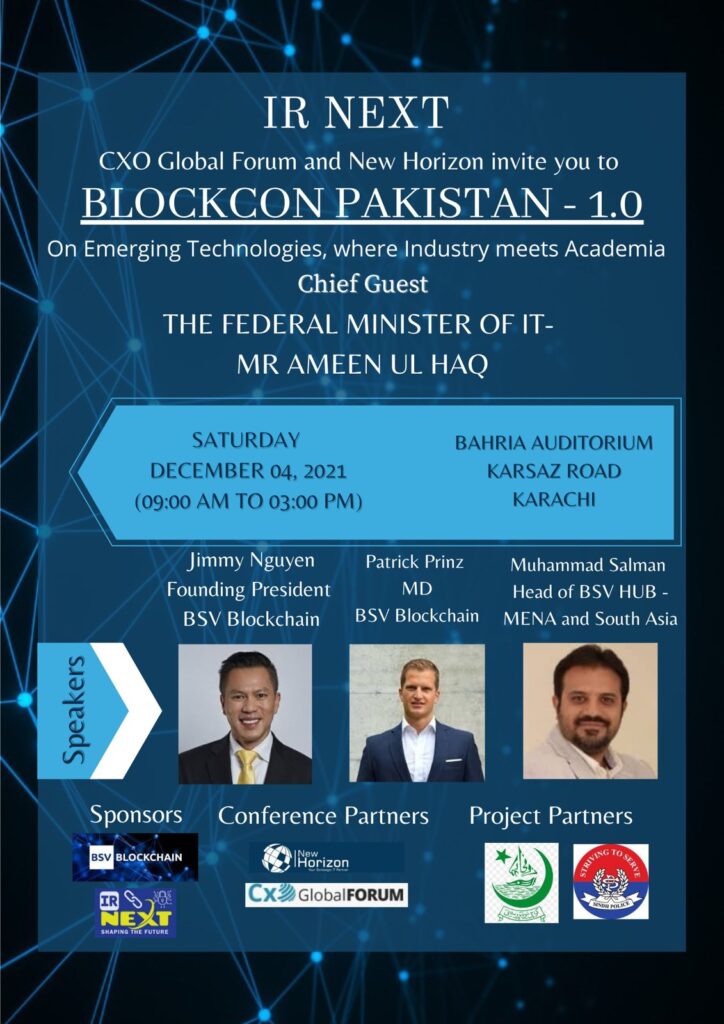 In recent times, an increase is seen in the amount of cooperation between business and academia. This is due to the fact that they have an interdependent relationship with each other. Nowadays, knowledge has started becoming more crucial for economic development and this collaboration between industry and academia has proven to improve knowledge and enhance skills, causing new and improving innovations. This relationship has enabled vital skills that are required by industry, which eventually leads to early entrepreneurships. A mixture of market research and innovation at the university stage can turn out to be beneficial for the constantly growing economy and can be used to cater industrial levels to promote commercialization. 
Lately universities, especially those related to engineering, are becoming more and more dependent on industries. In already developed countries, this collaboration has proven to be equally beneficial to a large extent for both, industry and academia.  
The primary goal of institutes should be to prioritize and motivate their grad students to focus on current market trends and requirements. Which is why it is essential to maintain a balance between market and education.
Universities produce graduates that are soaked up by industry, providing them jobs and experience. Working with companies improves the quality of training of engineers and broadens their career scope – training them according to the market. It is a strenuous task, nevertheless a surplus amount of revenue can be generated from this linkage.
It is safe to say that most of the research work done in universities is practically implemented by industries, if in demand.
The Chairman of NEVASCO, Han Wensink — also senses that there is a need to arrange a collaboration with academia and its contributors. "The industry would be able to create together with academia long-term sustainable consortia to organize funding and develop new products and services," he claims.Studies prove that every dollar that is invested in research at medical schools and educational institutes creates about $2.60 in economic activity. If we take last year's example, Harvard University received more than $800 million in research funding, with 70 percent coming from the federal government itself. This funding caused hundreds of millions in salaries and wages for Massachusetts citizens, as well as purchases from local businesses, with more than $21 million directed to companies in Harvard's host communities of Boston and Cambridge
Currently over 700 companies are working with faculty and students on projects of mutual interest. Among these corporate sponsors are such global heads such as BAE, BP, Boeing, Du Pont, eni, Ford Motor, Google, Intel, Lockheed Martin, Novartis, Quanta Computer, Raytheon, Samsung, Sanofi, Shell, Siemens, TOTAL, and many more
MIT has a lively patenting/licensing activity, with 794 new invention disclosures in FY17, and $47 million in total licensing revenue. According to the report, Entrepreneurship and Innovation at MIT, MIT alumni have launched 30,200 active companies, employing roughly 4.6 million people, and generating roughly $1.9 trillion in annual revenues.
Industry-sponsored research totaled $148 million in FY17 (includes government pass-throughs), or 21% of all MIT research funding
However, competing on an international scale wouldn't be possible without the mutual understanding between both, academia and industry
To make the most out of this alliance, companies can take the initiative to issue patents to universities. This way, both sides can gain. Universities can allocate the funds towards the betterment of their facilities whereas, industries can benefit by accomplishing various other market related goals. 
It also provides the scientists access to more advance and state-of –the-art technologies and equipment that are scarce and not easily available in the institute. Not only does it impact the research and causes it to be more effective, but it also improves the reputation of the institute, causing the future employment rate of the institute to increase simultaneously.   
This continuous progression in the era of machinery will eventually lead us to being surrounded by technology. In countries such as Pakistan, there is a massive gap between the knowledge provided and the knowledge needed by the industry. Due to this huge gap, Pakistan is not only behind on domestic level but also international as well
 Soon most of the society will be digitised and dominated by A.I, therefore to effectively use this type of technology in Pakistan, a functional and practical solution will be required. Finally, to commercialize these products, academia and industry will have to join hands and work together